Black Friday is almost here!
Buy popunder, native, banner and push traffic with a Self-Serve Client interface.
New clients get $50 free, reactivated clients get 10% free. Read more below.
Take advantage of this Black Friday Bonus
This Black Friday, you get more for your money. We're giving away the best Black Friday advertising bonus with $50 free for new clients and a 10% reactivation deposit bonus for existing clients who were not active in November.
Clients can spend their free black Friday advertising bonus on any ad format or country, it's simply a balance added to your account, and you're free to do whatever you may like with it. Read more here.
New Advertising Clients
Advertisers, media buyers and affiliate marketers! Register an advertiser account here, update your profile details and make a purchase for at least $150 and get a $50 bonus for your deposit.
Use promo code EZBLACK50
Existing Advertisers
Already have an account with us? You should still get a bonus! If you were not spending in November and are looking to dive back in, you'll get a 10% bonus for any deposit you make over $500. The bonus amount is limited to $1000.
Use promo code EZBLACK10
Push. Pop. Display. Unlimited.
Classic Push Ads
In-Page Push Ads
Calendar Push Ads
Classic Push Ads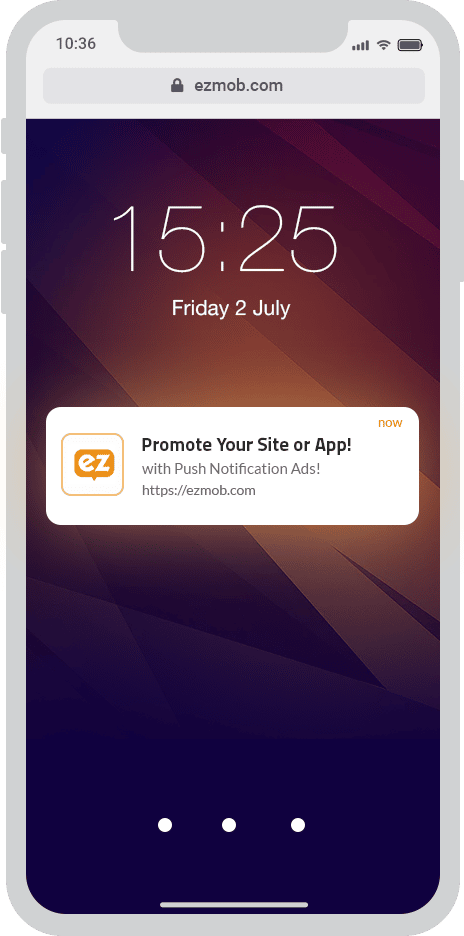 What are Push Notifications?
Push notifications are browser-based messages that engage users as they're actively browsing on the web. Push ads generate a healthy CTR and provide advertisers with a visible and highly engaging ad that works well across various verticals like sweepstakes, utilities, dating, sports and more.
In-Page Push Ads
Calendar Push Ads
Why choose our ad formats?
High CTR
Get more than just impressions with a higher CTR and CPC bidding.
No risk
Starting is easy with a min bid of $0.001 and $50 min. deposit
Global coverage
Pick and choose your audience out of millions of potential users.
Human traffic
Eliminate Bots and viewability concerns with guaranteed 100% human traffic.
Smart targeting
Define and target your audience with the best adtech tools available.
Detailed analytics
Control your spend with better insights and real-time reporting metrics with push notifications ad network
Fully control your campaigns and optimization, easily.
Campaign Interface
Campaign Automation
Conversion Tracking
Campaign Interface
Campaign Automation
Conversion Tracking
Looking for other solutions?
EZmob enables media buying and monetization for a broad range of demand partners,
if self-serve is not for you, apply to the relevant team below or contact us via the form below
Ready to jump start your black friday campaign?
Sign up to acquire new quality leads tailored to your business without wasting your marketing budget!