While having been around for a very long while, Popunder ads are still one of the most effective means to drive CPC traffic to your website or app.
Almost every means is acceptable in a way to go new visitors, especially in today's competitive market.
You will also find many ad platforms to drive traffic and produce more leads.
Among the widely utilized, you can figure out the next include:
Banner advertising showed to a particular target audience and is oriented on their topics, hobbies, interests, and other engaging stuff. This kind of ads is specialized in visualization. Usually, they existed on the top site to drive attention.
Native advertising is very much the same as banner advertising. The only difference is that it's less vibrant and consistent, along with the overall site design.
Search engine advertising is focused on individuals who spend dozens of times browsing products or services online. Those ads show as text and highlighted headings.
Each of the ads mentioned above is connected to loyalty advertising. That's because it enables users to decide whether to click it or not.
Nonetheless, you will also find pop traffic ads like popunders and popups that usually annoy users.
Nonetheless, people who utilize smartly might achieve positive outcomes and less spending on traffic. In this post, let's figure out 'Do pop-under ads work?' and discuss the benefits and drawbacks of this type of advertising and some ways of using it.
Nearly all websites these days attract customers with a popunder ad. This kind of ad is very particular and shows when a user opens the webpage. The ad shows in another window as soon as a lead clicks on the close button.
Popunders have a lot of benefits as opposed to other types of ads:
CPC bidding – pay for engaged users and not just impressions served
Popunders reaches a broad audience
It shows once a day and appears to unique users only. This kind of tactic saves money and stops non-target traffic
Pop advertising type of advertising produces more traffic
Pop traffic has an economical price. The payment is done based on the Pay Per Impression (PPI) model. Hence, the quantity of impressions is the same as the number of clicks as the user is redirected to the target site as soon as the ad shows.
Popunder network advertising does not involve responsive ads, so no need to redesign creatives
Results are guaranteed since users land on the advertiser sites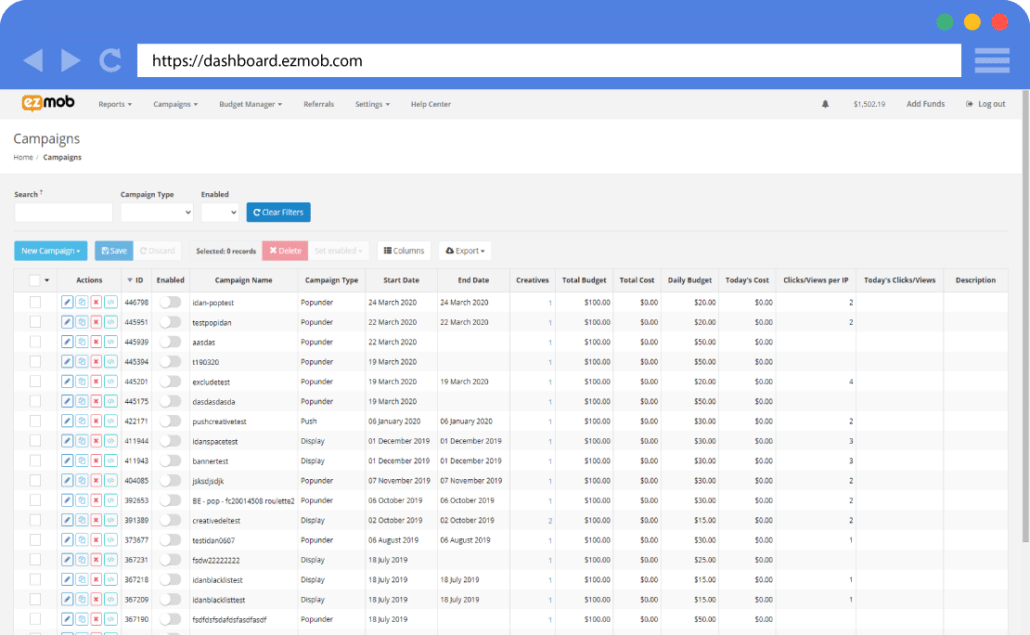 Why Should You Utilize Popunder on CPC?
Let's say you finally considered attracting users with this type of CPC advertising (popunder ads). For you to set and run it, you need to do the following:
Choose a popup ad network or traffic source, allowing to set up pop-under ads, such as EZmob.com
Create exact parameters for your target audience
Provide a landing page to direct CPC traffic to and include all necessary tracking parameters
Fund your account with a minimum of $50
That's it; you're ready to launch your popunder ads campaign!
EZMob is the best partner for monitoring specific stats from popunder advertising. The good thing is that users do not need to create added settings or pay for additional plugs to monitor real-time progress.
Chat with us today to get started, or refer to our Helpdesk.
It's easy to fund your account with EZmob!
PayPal – PayPal is the most well-known payment method that allows a faster and safer way to transact online while keeping your privacy, and also be able to use your credit card payments through PayPal
BlueSnap: A payment aggregator for credit cards, debit cards, and various additional payment methods.
Payoneer – Whether making international payments, receiving funds, managing your digital business, or accessing capital, Payoneer opens your business up to the world.
Capitalist – a new and revolutionary payment method that allows virtual card processing and free payment fees among account holders.
Paxum: One of the most accessible and reliable payment platforms.

Get access to promotions, case studies, and recommended partners
Read more reviews and articles